HOT TAKE OF THE WEEK-The Cleveland Browns will NOT make the playoffs! You heard it here first! I will get into the details below. (Obviously this will be a new segment going forward, so keep an eye out for next week's HOT TAKE OF THE WEEK)
The AFC North might have more storylines than any other division in football. You have the Browns and all the hype surrounding them, the Steelers and how they will move forward without Bell and that goddamn psychopath Antonio Brown, you have the Ravens and whether or not Lamar Jackson is a good starting QB, and then you have the Bengals going into their first season since the 1800s with a head coach other than that chode Marvin Lewis. The Bengals still have that chode Hue Jackson on their staff and that asshole is a magnet for losses, so I'm not sure how much success this Bengals team will have. But there is plenty of shit that should lead to a very entertaining 2019 season.
The AFC North always plays some of the better games of the year in my mind. They are always tough fuckin games no matter who's playing. The Ravens and Steelers are usually must watch TV with the brand of football both of those teams play. This is also going to be one of the better division races this year too with 3 teams looking to make a run at the division crown. Let's see how it will shake up!
Pittsburgh Steelers 11-5
Cleveland Browns 10-6
Baltimore Ravens 7-9
Cincinnati Bengals 5-11
The Pittsburgh Steelers still have Big Ben, they still have Mike Tomlin, and they still have extremely capable skill players at RB and WR. This team won 9 games in an extremely tumultuous season last year. The season started with the Leveon drama and ended with the Antonio drama. Now the drama is gone and this team can focus on winning football games. Ben will have his annual 4-5 pick game but they will work around it to win the division.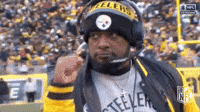 Now on to the most hyped team of this offseason, the Cleveland Browns. Let me start by saying I love Baker, I love Chubb, and I love Garrett. I don't love the O-line and the defense may suffer without the aggressive play calling of Greg Williams. In 3 years this team will be competing for a Super Bowl, but this just is not the year. They are extremely young with a rookie head coach and way too much hype surrounding them. I see them getting to 10 wins but I see them missing the playoffs by a hair. Don't worry Browns fans, your time is coming!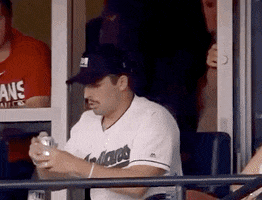 The Ravens time has already come and passed. Lamar Jackson took the league by surprise last year and ran his way to a division title. That also happened a few years back with a guy who threw better than him. You might remember him by his nickname, RG3. The linebackers in the NFL are too big and too fast for Jackson to be able to run all season and I have not really seen him make a handful of NFL throws in his career yet.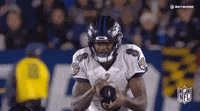 Cincinnati is in for another rough year. They get Andy Dalton back but they lost AJ Green for a few weeks. The biggest bright spot on this team will be Mixon rushing for over 1200 yards. He's a goddamn freak of nature, but no matter how many yards he runs for this year it will not get the Bengals past 5 wins. Like I said before, they still have Hue Jackson in their organization meaning their destined to lose a shit ton of games.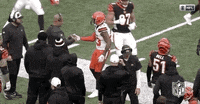 Check back for the AFC South tomorrow which should be another fun division race!