What a fun division this one will be to watch this year. It is probably the most talented division all around and there are two teams with Super Bowl aspirations. Patrick Mahomes came into the NFL as another Big 12 QB nobody believed in. Well the Chiefs believed in him, and boy did it ever pay off for them! He threw for 5,100 yards and 50 TDs and ran for 270 and 2 more TDs on his way to an obvious MVP season. He may have won a Super Bowl as well had his defense been able to come up with 1 fucking stop in the AFC Championship game, but he will have plenty of chances to get to the big game. The Broncos and Raiders are two of the most confusing teams in the league. They can be really bad, but there is so much talent on both rosters it is really hard to imagine. Let's see how they'll end up.
Kansas City Chiefs 13-3
Los Angeles Chargers 12-4
Denver Broncos 7-9
Oakland Raiders 5-11
Here is a similar prediction, with a little more balance between the teams.
*SEE ABOVE FOR PAT MAHOMES STATS AGAIN* Now let's get to the rest of the team. Weapons on the outside. Check. Weapons in the ground game. Check. Weapons across the middle of the field. Check. Offense is going to be phenomenal again! Now on to the defense. They lost Justin Houston and Eric Berry, but they did get the Honey Badger and that will be a huge lift for a secondary that will have to be big this year. I really like this team and they will definitely be playing January football this year!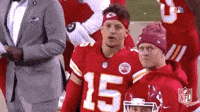 Rivers and the Chargers, along with the Chiefs hope to see the big game this year! Rivers was no slouch last year throwing for 4,300 yards with 32 TDs. He gets Hunter Henry back this year to go along with Keenan Allen and Mike Williams. We also cannot forget that this defense is LOADED with studs! Bosa and Ingram on either side of the DL, along with Derwin James and Casey Hayward back in the secondary. This team has big plans this year as long as everyone can stay healthy.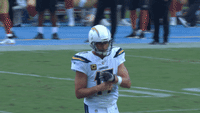 The Broncos are the opposite of the Chiefs. They can play defense with the best of them, but they would have trouble scoring against a CFL team. In today's NFL, this is not the way to win football games. Scoring a shit ton of points is the new NFL and it's not changing any time soon. The Broncos tried to remedy this offense by trading for Joe Flacco and drafting Drew Lock. That's just not going to fuckin cut it in the new NFL. Flacco to Emmanuel Sanders is not a scary thought for opposing defenses. They need more weapons and they need a franchise QB to get the ball to those weapons. Defense will obviously be great with Von Miller and Bradley Chubb, but the offense will not score enough to keep this team competitive.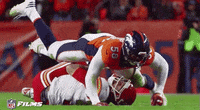 Now on to the funniest team to look at and read about, the Raiders. WHAT A DAMN JOKE! This team has done nothing but make headlines for the wrong reasons. Now, 90% of their coverage is this Antonio Brown bullshit with the helmet. Guess what AB? YOU'RE THE ONLY BITCH COMPLAINING ABOUT IT! Give it a rest and pick a fucking helmet and go play some football! Every other player in the NFL is wearing the same helmets he is complaining about and you hear nothing about it unless they are asked directly about it. Never put this asshole in the same sentence as Julio and Hopkins because those two never complain, never cause tension, and put up basically the same numbers! Eat a dick AB! Now Carr is a solid QB but not good enough to overcome the adversity this team will face all year. Sorry Gruden, sucks to suck!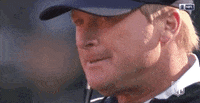 Let me know what you think and check back next week for my NFC division previews and predictions!