Well what a weekend it was. College football was back in a big way with Florida facing off against in-state rival Miami. Out on the west coast, Hawaii hosted Arizona in what was sure to be a shootout. I will be keeping track of my record on the season for my picks against the spread (ATS) and the over/under (O/U).
ATS 1-1
O/U 2-0
Don't get me wrong, I loved watching the games, but I think the best part of the day was waking up with my coffee to College fucking Gameday! There is just something about seeing them boys on Saturday morning that makes it move. Herby is my favorite analyst in all of sports, and Lee Corso is fucking delusional but he is also a goddamn riot to watch on this show. No sports show on television flows better than this one. You cannot convince me otherwise.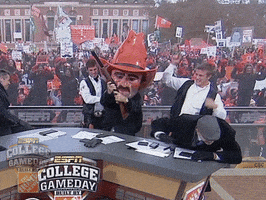 Now let's get to the games…
Florida came out real sluggish as many might have expected. The offense was sloppy and Miami looked like they wanted it more to start the game. Talent did prevail though as Florida did just enough to squeak by for the first win of the FBS season. They did not however cover the spread those fucking chodes, but both offenses did play shitty enough to stay under the 46.5 I picked. After a sloppy week 0, I expect Florida to bounce back in a big way and really make a run at the SEC Championship game this year. Dan Mullen is a man on a mission, and more than likely it will come down to that Saturday in Jacksonville when they square up against Georgia.
The offenses clicked a little better in the west coast game. I do attribute that to horrible fucking defense, but either way these two teams had no issues going over the 73.5. With Khalil Tate in his third year, Arizona had some aspirations to maybe compete in the Pac 12, but I think those aspirations were thrown out the window after Saturday night. Arizona gave up 45 and Khalil Tate got stopped at the 1 yard line as time expired to give Hawaii the win. Check out some Pac-12 predictions here.
What a Saturday it was, and it was only the FUCKING BEGINNING. We have a full weekend full of games starting Thursday night and I cannot wait!