The NFC South is probably the deepest division in terms of offensive capability. All four teams have the capability to have high scoring offenses, but the defenses in this division are suspect at best. Two of the four QBs in this division have won an MVP, and one of them is not Drew Brees. Matt Ryan and Cam Newton both have MVP trophies under their belts, but Brees has the one that really matters, a Super Bowl MVP. It really is inconceivable though to think that Brees has led the league in pass yards 7 times, TDs 4 times, and passer rating twice and never won an MVP. The team that has won the division in the NFC South is the only team from this division to have made the playoffs 4 out of the last 5 years. The only wild card teams from the NFC South in that span were the 2017 Falcons and Panthers, who both lost within the first two weekends. Let's see how it will shake out this year.
New Orleans Saints 11-5
Tampa Bay Buccaneers 9-7
Carolina Panthers 8-8
Atlanta Falcons 7-9
Drew Brees is a timeless wonder! He will more than likely be the all time TD pass leader at some point early in the season. (as long as Brady doesn't pass him) They also have studs at WR and RB in Michael Thomas and Alvin Kamara. Throw in a new weapon for Brees like Jared Cook and this offense is going to be lights out! They also have some studs on defense in case you were wondering. Guys like Cameron Jordan and Marshon Lattimore are both top 10 guys at their positions and are ready to take this team to the next level! This team is desperately trying to avenge last year's loss to the Rams and show the world that they are a Super Bowl caliber team.
I am all in on Jameis this year. He knows he has to have a big year or his time in Tampa is going to come to a painful end. Mike Evans is a top 10 WR in football and they have some nice compliments in OJ Howard and Chris Godwin. They have some solid enough pieces on defense to keep games close for Winston to full a few wins out his ass. Now the defense is not great and it is not deep, so any injuries to a guy like Gerald McCoy would completely cripple this defense and make this closer to a 5 or 6 win team.
Ron Rivera said yesterday that Cam Newton is 100% going to start week 1. Now that does not mean that Cam Newton is 100% healthy, which we all know is probably not the case. Cam's shoulder was a real concern last year as he looked like Chad FUCKING Pennington trying to throw the ball. He could not throw the ball more than 20 yards downfield and the Panthers would even bring in backups to throw in deep ball/Hail Mary situations. CMC is going to have another ridiculous fucking season but it will all be for naught as the Panthers have no one out the outside to threaten any defenses. 
Matt Ryan, Julio Jones, Calvin Ridley, Austin Hooper, Devonta Freeman. Sounds like a 10 win playoff team, right? WRONG! PFF had Atlanta ranked as the 9thworst front seven in football and the 14thbest secondary in football in 2018. They did not make any huge adjustments on the defensive side of the ball and that is scary for a team that gave up the 8thmost points in the league last year. Being in that range groups them with teams like Miami, Arizona, and the 49ers. YIKES! Even Matty Ice leading the 10th highest scoring offense could not counteract the shitstorm that this defense was. Some are predicting a resurgence for the Falcons, back to their 2017 form, but I just don't see it. Unless we see some huge progression by almost every guy on this defense, they are on their way to another 7 win season.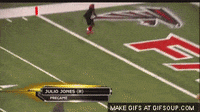 My last division preview will be the NFC West tomorrow and on Friday I will have my Super Bowl pick in!