With 16 games on tonight, everyone is gonna need to get a little action in! Well don't you worry! I have everything you will need right here to pick which games to bet and which ones to stay away from. I will give you 3 games in which I choose a team and then I will give 1 over/under pick for tonight. I am here for you guys, so I hope you take advantage of this hot insight I'm handing out!
UCLA at Cincinnati -2.5
LOCK OF THE WEEK ALERT!
Cincy had one of the best defenses in the country last year and they won 11 games. Chip Kelly struggled like he has never struggled before as a coach in his first year with the Bruins. Chip is looking to get things turned around this season, but this is my lock of the week for a reason. If you don't believe me, the CPU sims are taking Cincy as well.
Pick: Cincinnati -2.5
FIU at Tulane -3
Tulane QB Justin McMillan came onto the scene last year and led Tulane to their first bowl game since 2013. They whooped the shit out of Louisiana-Lafayette in that game and he looks to keep that momentum going into this year. Give me McMillan and the Green Wave at home against a putrid D-line!
Pick: Tulane -3
Utah -6.5 at BYU
Utah has some high expectations this year as they are trying to be the "Group of 5" representative in the New Year's 6. They will have some tough competition down the road, but it all starts with their rivalry game, the Holy War. This will be the 100th edition of this rivalry and it really has never been close with Utah leading 61-34-4, while winning the last 8. 6.5 is a big spread but I really like this Utah team this year and they can make some noise in the CFP convo if some of the bigger teams lose. 
Pick: Utah -6.5
STAY THE FUCK AWAY FROM:
In college football there are plenty of games with 30+ point spreads. Tonight there at least 3. STAY THE FUCK AWAY FROM THOSE! THEY ARE A GODDAMN TRAP! You never wanna give a team 30+ points in a bet and you never wanna pick a shitty team to stay within 30 points of a great team. It just never fucking works! I will never forget the year Duke played FSU in the ACC Championship in 2013. I took Duke like +48. Like in the gambling world they are starting the game up 48-0. Easy decision right? WRONG!!!! They wound up losing like 58-3 or some shit like that to lose me like 200 bucks. Fuckin bitchass Blue Devils!
Over/Under
Cincinnati vs. UCLA 56.5
It is the first game of season, so the quality of play is bound to suffer a little bit. Couple that with Cincy's great defense and you come up with less than 56 points!
Pick: Under 56.5
HOT TAKE OF THE WEEK!-Take Wassu to win the CFP Championship at 150-1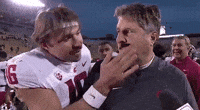 Washington St. is going to win the Pac-12! Mike Leach and his high flying offense will win that conference. Now they have a few tough matchups on the schedule, but they have a solid chance at running the table in my mind. I just really like this team this year and they are by far the best value bet to win the CFP Championship. This team has what it takes and I really think they may be able to pull it off this year. 
Just an FYI that if you place $20 on Washington St. to win the CFP Championship at 150-1 odds and they do win you will wind up winning $3K! That is an enormous return on investment and almost definitely worth the risk!