The Heisman Trophy cannot be won in week 1, but it can sure as shit be lost in week 1.
Week 1 in college football always bring us some crazy stat lines as some teams are playing fuckin cakewalks to get ready for conference play. Some teams were not lucky enough to play FCS teams in week 1 as Clemson and Georgia both played conference games and Alabama played ACC opponent Duke. They did not play the heavyweights in those divisions, but they are still better competition than teams like FAU and Middle Tennessee that some other Heisman hopefuls played against.
The biggest surprise to come from week 1 was the lack of dominance from Trevor Lawrence. People expected this kid to come in and tear shit up this year, and he still may, but throwing 2 picks in your opening game at home against a fringe bowl team is not a great look. Some QBs may not throw 2 picks all season long and Lawrence threw 2 in his first game. Not good!
I will say playing in the Big 12 is WAYYYYYY FUCKIN EASIER than playing in any of the other Power 5 Conferences. The defense in the Big 12 is god fucking awful and teams put up 500-600 yards every single week. It is no surprise that the last 2 winners were both out of the Big 12 and now one of the favorites to win after week 1 is also out of the Big 12. Jalen Hurts put the whole fuckin country on notice in Week 1 with his ridiculous 6 TD performance against Houston. It does not get much more difficult for Hurts either as Oklahoma plays a typical Big 12 schedule. I do not think he is as good as the other QBs in the hunt though so I do see some regression as the season goes along.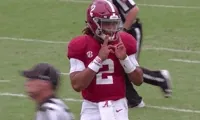 Tua kept himself in the race with a typical 4 TD, 5 incompletion day. He has the toughest schedule of everyone in the race but that didn't seem to bother him last year as he was the favorite all season until the SEC Championship game. I think he gets over the hump this year and stays right among the top 3 for the entirety of the season.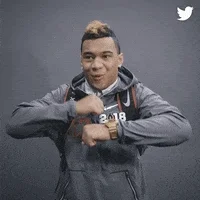 Justin Fields very quickly inserted himself into the race with 4 TDs in the first fucking quarter! He is out to prove a point to Georgia and the entire country that he is one of the best QBs in the nation. Fields has a couple tough games on the schedule but I think he is going to continue his pace for most of the season.
There are a couple of darkhorses out there too who will make some good value bets for you if you're feeling lucky. Ian Book out of ND is getting a lot of love in Vegas. He did not look great last night but he played well enough to still be able to sniff the front of the pack. Jacob Eason out of Washington (another Georgia transfer) looked great too throwing for 350 and 4 TDs. Both of these guys will continue to play well and their odds are long enough for you to get some bang for your buck if you were to throw some cash on them.
Now, I understand running backs are an extremely important piece of a winning team, however, this award just is not a RB award. Since 2006 only 2 RBs have won this award. The rest of the winners were all QBs. In order for a RB to win the Heisman, they need to dominate every single game, one game under 100 yards or 0 TDs pretty much removes you from the race altogether. So yes, Etienne and Taylor had great weekends, but do I think they will perform like this every week? No. Those guys need these performances every single week to win this award and it's just not going to happen.
Now, I think this year might be the closest race yet. There will probably be 4 or 5 guys that legitimately deserve to be in NY on that night. Only 1 will take this award home though and I am all in on Justin Fields. He is out to prove a point and he is going to run a fuckin train on the Big 10 this year on his way to a Heisman Trophy and a CFB Playoff birth. Enjoy!