The MLB is weird in the sense that they award two separate MVPs, two separate Cy Youngs, and so on and so forth. They give out one award for each category in both the American League and National League, which really does not make a whole lot of fucking sense considering they are the only league that does that, but whatever.
AL MVP
Let's get the easiest one out of the way first. Mike Trout is winning the AL MVP…again. He is undoubtedly the best player in baseball and it really is not close. Using the traditional stats, Trout is batting 293, has 43 HRs, and 101 RBIs. His OBP is 440 and his OPS is fucking 1.081. He is right on pace with the tops in the league for almost all of those categories, but the thing with Trout is he does this EVERY FUCKING YEAR! If he keeps these stats up and stays healthy he will break a fuck ton of records down the road.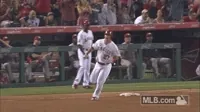 NL MVP
This is really down to a two man race between Christian Yelich and Cody Bellinger. Both of these guys have been raking since Opening Day! They are also in a fight for the Home Run Crown with Trout and Pete Alonso. Both of these guys have been unreal this year. They are both hitting over 310 with an OBP over 410. This may come down to whether or not the Brewers make the playoffs. If Yelich gets real hot over the last month and carries the Brewers to the Wild Card Game they will not be able to ignore that. I do not see the Brewers making it though and I am going with Cody Bellinger for NL MVP.
AL Cy Young
Another 2 man race, except this one is between teammates. Justin Verlander and Gerrit Cole have both been insane this year, and what's shitty for the rest of the league is that they are both on the same fucking team. I hit on Verlander's no-hitter the other day and his dominance over the last decade has been no secret. He has dominated this league for as long as a pitcher really can dominate. Cole will lead the league in Ks and Verlander has already surpassed his career high in HRs allowed, but Verlander has been too dominant to lose this award. Verlander has a WHIP of 0.77 for fucks sake! That is nuts! JV FOR CY.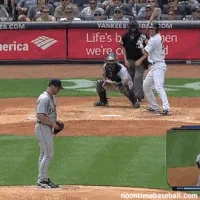 NL Cy Young
This one has quite a bit more than 2 people in the hunt. Scherzer would probably be the clear cut winner, but he missed a month and probably will not be in consideration for it. Outside of him you have Jacob deGrom who sports a 2.66 ERA and a WHIP just over 1. He has been every bit of a Cy Young Winner this year, but so have a few other guys. Hyun-Jin Ryu was unhittable over the first half of the season heading into the ASB with an ERA under 2. His last couple starts have not been great though and he may slowly fall out of this race. Walker Buehler has been great, and advanced stats have Strasburg near the top of the race too! At this point if any of these guys 4-0 or 3-1 this month with an ERA under 2, they might steal this award. The Mets need deGrom to step up this month, and he will to steal this award for the second straight year.
AL Rookie of the Year
Yordan Alvarez! He made his ML debut in June and has 21 HRs since then. He doesn't have any competition.
NL Rookie of the Year
This race is kind of wide open with the injury to Fernando Tatis Jr. who looked to be running away with it before that. Mike Soroka has been unbelievable for the Braves, Pete Alonso has already set the NL Rookie HR record and is now chasing Judge's MLB record, and Brian Reynolds might win a batting title. The advanced stats don't back up Soroka with this kind of competition and Pete Alonso may carry his team to the playoffs. Pete Alonso for ROY!