Football season is upon us, and with the return of NFL Football comes the return of Fantasy Football. Every sports site give you some bullshit start/sits or love/hates for the week. Well here at Unfiltered Sports I will be bringing you GOATs & Chodes to let you know who the top performers for the week will be (GOATs) and who is going to perform under their expectations (Chodes). Using this segment every week will be a surefire way to maximize you fantasy team and guarantee a fuckin victory!
Week 1 is sometimes a struggle though. You drafted specific guys to be your starters in week 1 and its hard to look at matchups and sit some of your guys based on that. Go with your fucking gut! If you feel like a matchup is really fucking bad and you don't think your guy is going to perform, bench his ass. Certain WRs and RBs you have to start based on volume certain guys are not worth the risk. Now onto the segment!
QB GOATs
Russell Wilson-The Seahawks host the lowly Bengals in Week 1. The Bengals gave up more passing yards than anyone last year and with plenty of downfield threats Wilson is going to have a field day in Week 1. He is projected at right around 20 points but I can easily see him surpassing that number.
Carson Wentz-His MVP season will start in Week 1 as he faces a Redskins team that has a below average defense. PFF has them ranked as the 23rd best secondary heading into 2019. That bodes well for Wentz as he has plenty of weapons to tear the Skins up this week.
RB GOATs
Chris Carson-Carson takes on a pathetic fuckin Bengals defense in Week 1. With Cincy traveling to Seattle, the Seahawks will have their way on offense on Sunday. Carson is projected between 14-16 points, but he definitely has a ceiling of 20-25 if the Seahawks feed him the rock, which I think they will.
LeVeon Bell-HOMER ALERT! HOMER ALERT! I know he is a Jet, but that aside, the Bills do not have a great front 7, so Bell should be able to pick up big chunks of yards. What the Bills do have is a great secondary, which means LeVeon will be relied upon quite a bit in the passing game as the Jets booty ass receivers struggle to get open.
WR GOATs
Amari Cooper-Cooper and the Cowboys get the turrible fucking Giants in week 1. The Giants secondary is projected to be one of the worst in the league, and with Zeke back it opens everything up back there. Cooper is projected around 14 points but I can easily see 18-22 out of him this week.
Dede Westbrook-The Jags open up against KC. That means they are going to need to unleash Big Dick Nick and he will have a real good friend in Westbrook. Westbrook has had trouble staying healthy but he will have a big week 1 to remind everyone what he is capable of.
Larry Fitzgerald-I know, I know he is old as shit, but it is Kyler Murray's first career start. He is going to need someone reliable to consistently get open for him. Who better than Larry Fitz?! Larry has been one of the more consistent receivers the league has ever seen. He is going to be a huge piece of Kyler Murray's development in this league, but for now he should be good for 12-15 points in PPR leagues.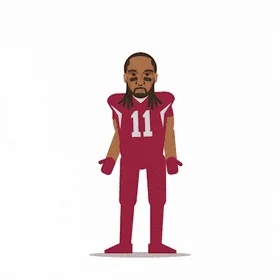 TE GOATs
David Njoku-PFF has the Titans secondary ranked inside the top 12 heading into the season. Njoku is poised for a big season and it will start today. He will need to get open as Mayfield will be looking for him quite a bit on Sunday. He is projected 11 PPR points but it is very possible he scores a touchdown in a red zone situation for the Browns this weekend.
Mark Andrews-Lamar Jackson is NOT a fucking gunslinger. He is absolutely going to need a safety blanket to rely on and Andrews will provide him with that as he will find openings underneath and over the middle for easy throws for Jackson.
D/ST GOATs
Seattle Seahawks-They just picked up Clowney heading into an already light matchup with Cincy. They will be all over the place in week 1 as they dominate the Bengals.
Detroit Lions-They face rookie QB Kyler Murray in his very first start, and there will be some growing pains for Murray to say the least. He will definitely get sacked a few times, and more than likely he will turn the ball over. Detroit has a better defense than most people realize and they may make Kyler Murray's head spin in week 1.
QB Chodes
Aaron Rodgers-Rodgers is in his first season in a new offensive system, he did not play a single snap in preseason, and he faces probably the best D in the league on Thursday night. If you drafted him you probably have to start him, but do not expect him to reach his projection of 20 points.
Cam Newton-The Rams have a real good secondary, and they have Aaron Donald who is going to be up Cam's ass all fuckin day. He will force Cam into a few bad throws, plus we still don't know how far Cam can even throw the ball at this point. CHODE!
RB Chodes
David Johnson-The Lions may have one of the best run defenses in football this year and David Johnson will find that out first hand this weekend. You obviously drafted him in the first round and you are going to start him, but he will also probably not reach his lofty week 1 projections.
Aaron Jones-I really think it is going to be a loooong Thursday night for the GB Packers. This Bears defense is ready to fucking go and Aaron Jones is going to have a rough go of it in week 1. 
WR Chodes
Antonio Brown-I'm not sure if AB will be able to see the fuckin ball after having to settle for a helmet he clearly didn't want to wear. Plus after missing much of training camp Brown faces one of the better secondaries in the league in Week 1 and he might struggle a little bit. He will need a bit of time to get on the same page as Carr and it probably won't happen right away in week 1.
Tyreek Hill-After plenty of drama in the offseason Tyreek Hill faces a top 3 secondary in the league in week 1. Mahomes has plenty of weapons, and with Jalen Ramsey likely shadowing Hill I do not like his chances.
TE Chodes
Delanie Walker-Cleveland has quickly put together one of the better groups of pass defenders in the league. After missing all of last season Delanie will need more time and an easier matchup to produce at his old level.
Hunter Henry-Henry also missed all of last year, and I am extremely high on him this year, but it is going to take him some time to get back to game speed. Rivers has plenty of weapons on the outside for this week against the Colts shitty secondary.
D/ST Chodes
New York Jets-The Jets have a real solid foundation for a defense with young guys like Q. Williams and J. Adams, but their CBs are suspect as shit, and containing Josh Allen in the pocket may prove to be difficult. I think the defense is good, but not fantasy good…yet.
Check back Saturday for DraftKings Lineups and then next week for GOATs and Chodes Week 2!