What a fucking difference 96 hours can make. Antonio Brown had some drama with the Raiders in the last couple of months, but after he agreed to the wear a helmet we thought everything was all good. PSYCHE! That could not be further from the fucking truth! Let me break down the last 3 days in Antonio Brown's life for you.
On Wednesday Brown received the letter informing him of his fines. He posts them on social media for the world to see.
That same day at practice he sees Mike Mayock and decides to confront him over said fines. A "confrontation occurs" where no one really knows what the fuck happened. All we know is Brown may or may not have called Mike Mayock a cracker, which honestly most of us don't even know what the fuck that means. All of this leads to rumblings of a Brown suspension for Monday Night Football.
The following day Brown says sorry for being a dickhead to the rest of the Raiders. He made a statement, but in his statement he never actually apologized to Mayock or Gruden, just to the organization. What the fuck is wrong with this guy?!
Last night he posts a video containing a recorded phone call between him and Gruden. Gruden says Brown is misunderstood, but at this point we all fucking understand that this guy needs to be in a goddamn psyche ward somewhere! He has completely lost his mind and is most definitely a danger to himself and the rest of the general populace.
Everything seems all good until this morning. Brown starts his day off bright and fuckin early with an IG post telling the Raiders to release him. Later we find out the Raiders fined Brown over $215K for his actions. (For everyone wondering, $215K to him is anywhere between $200-400 for us normies.) So it's not a huge fine, but a fine that will get your attention nonetheless. They also voided all the guarantees in his contract equaling almost $30M. Well when you act like a fucking asshole, you get treated like a fucking asshole.
2 hours later the Raiders release Brown.
5 hours after that Brown comes to an agreement in terms with who else but the fucking Patriots.
Now, even with all this bullshit, Antonio Brown is a top 5 WR talent in this league. There is no denying his numbers over the last 8 years. They're fucking insane! When he becomes a free agent though the one question everyone is asking is, who is ready to deal with his bullshit. Who in this league can run a team with this sideshow fucking clown doing everything he can to make it all about him.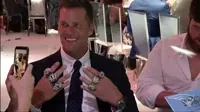 THE FUCKING PATRIOTS!! That's who! The Patriots are notorious for coming in and signing these headcases to low risk high reward deals. They did it with Josh Gordon, they did it with Michael Bennett. They make the smartest football moves which is why they are a fucking dynasty. They got him on a 1 year deal worth up to $15M with $9M signing bonus.
The rest of the league is completely fucked and here's why. Remember in 2007 when Tom Brady got Randy Moss to throw the ball to? I do. I will never forget because Tom lit the league up to the tune of 50 fucking touchdowns that year. The first time it had ever been done. Randy Moss also set the record for receiving TDs in a single season with 23. They also went 16-0 that year and were one of the best teams the NFL has ever seen. (I know they didn't win the Super Bowl, but if you sit here and try and tell me that those Giants were a better football team than the Patriots you don't know a fucking thing about football) Brown, right now, is more talented than Moss was at that point in his career. Now this team has Josh Gordon on one side, Antonio Brown on the other side, and Julian Edelman in the slot. ARE YOU FUCKING KIDDING ME?!?!? That is insane and as a Jet fan all I can do is shake my fucking head and ask why the Jets are run like a pee wee team while the Pats are the best run organization that organized sports has ever seen. They are going to score when they want and how they want this year and there will not be a secondary that can stop them.
Fuck Antonio Brown! Fuck the Patriots! Fuck Brady! Fuck Belichick! Fuck the Jets for being so godamn dusfunctional! Fuck everyone!